Cord and Globe Guide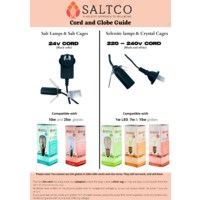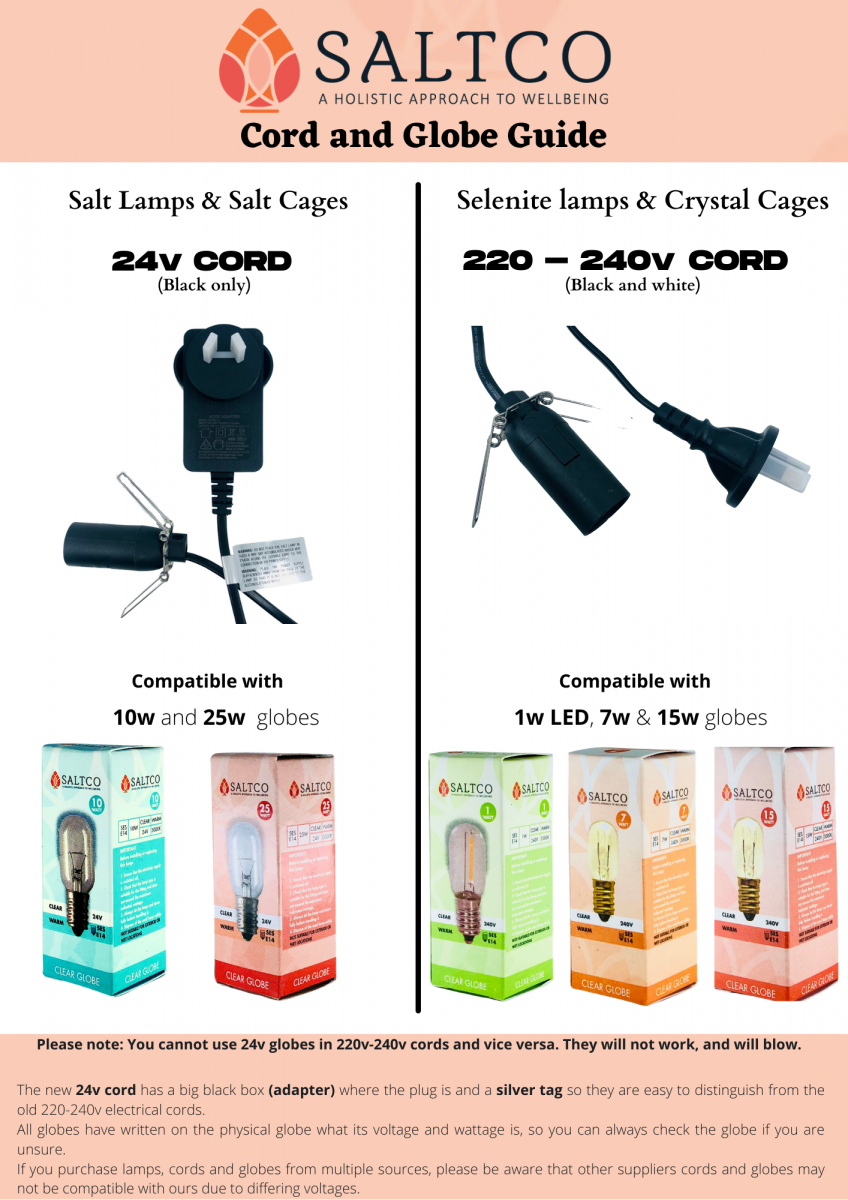 There has been changes in the salt lamp industry that require any salt lamps sold in Australia to be provided with an electrical cord that does not exceed 24v. Previously we have been supplying 220v-240v cords and globes.

We have now introduced a new electrical cord and matching globes to comply with the new regulations.

Our new electrical cords are 24v and can only be paired with 24v globes. You can use either a 10w/24v globe or a 25w/24v globe specifically designed to go into the new 24v cord.

Please note: You cannot use 24v globes in 220v-240v cords and vice versa. They will not work, and will most likely blow.

The new 24v electrical cord is easy to identify as it looks different from the old 220v-240v electrical cord. It now has a big black box (adapter) where the plug is. So they are easy to distinguish from the old 220-240v electrical cords. It is also written on the adapter of the cord.

All globes have written on the physical globe what its voltage and wattage is, so you can always check the globe if you are unsure.

As we are transitioning it will be a little confusing at first, but from now on you NEED to pay attention to which model of cord and globe you are ordering/using/selling for your safety and the safety of your customer.

Saltco Australia now supply 24V cords and globes for salt lamps. We believe that any voltage lower than 24V does not heat the lamp hot enough, and thus the therapeutic benefits are lost.
So rest assured, you have the best quality electrical cord on the market.

If you purchase lamps, cords and globes from multiple sources, please be aware that other suppliers cords and globes may not be compatible with ours due to differing voltages.

Please share this information with any staff members who serve customers or do the ordering, so they are selling/buying the correct cords & globes, and educating the public.

We are always here to help, please call or email us anytime to get further clarification.
The below image is a visual guide to help with the new cords and globes. This is available in PDF so please contact us if you would like a copy sent to you by email to have on hand.
Thanks,
The Saltco Team
---
Leave a comment